Metal and Wooden Gate Contractors, Gate Expansion, Restoration and Repair
Gate Companies Phoenix
Tired of dealing with a busted gate that looks like it's been through a World War? OR you want to tear down a wall and erect a decorative barrier instead? Landshark Gate Company is here to help!
As a premier gate contractor in Phoenix, AZ, we offer a comprehensive range of services, including installation, expansion, restoration, and repair. Our skilled builders understand gate design, material selection, and accessories to ensure your investment looks great and functions flawlessly.
Whether you own a residential or commercial property and want minor repairs, a wooden fence installation, a traditional bow-top side gate, a simplistic flat-top doorway design, or a facelift for an existing unit, we've got you covered.
Take advantage of our top-of-the-shelf customer service and the opportunity to enhance the beauty and value of your property.
Schedule a consultation with us today! We'll hook you up with a FREE quote and get to work on crafting the gate of your dreams.
Reach out to our Gate Gurus
Residential and Commercial RV Gates, Side Yard Gates, Swing and Driveway Gates
You know that feeling you get when you walk through a gate, and it's just… perfect?
Like, the way the latch clicks shut behind you, and you can't even hear it. The way it feels so smooth against your hand as you push it open. That's what we're here for! 
Residential or Commercial? We got ya! No project is too big or small. Some of our doorway options include:
RV Gate: An RV gate is used for recreational vehicle (RV) access. It is typically broader and taller than a standard one, allowing for easier entry and exit of larger vehicles. It is often made of durable materials such as steel or wrought iron and may include features such as a locking mechanism, hinges, and wheels for smoother operation.
Side Yard Gate: Our side yard barrier is typically installed on the side of a property, providing access to a fenced-off area such as a backyard or garden. It is usually smaller than an RV gate and may be made of various materials such as wood, vinyl, or metal. Side yard gates often feature locking mechanisms for security purposes and can come in multiple styles and designs to complement the property's aesthetic.
Swing Gate: This type swings open and closed on hinges, typically mounted on posts. It can be made of various materials such as wood, metal, or vinyl and can come in different styles and designs. Swing gates may be single or double, with the single one having one panel and the latter consisting of two panels that swing open in opposite directions. They may also be manual or automatic, with the automatic variant being powered by a motor and controlled by a remote or keypad. Swing gates are commonly used for residential, commercial, and industrial purposes to control access to properties or to enhance their aesthetic appeal.
Driveway gates: These are physical barriers that are installed at the entrance of a driveway to restrict access to a property. They are typically made of metal, wood, or a combination of materials and can be opened and closed manually or automatically using an electric opener.
Sliding gates: This type moves horizontally along a track to open and close. Unlike swinging gates, which pivot on hinges, it slides to the side, either parallel or perpendicular to the fence line. They are commonly used when there is insufficient space for a swinging gate to open due to site constraints or terrain.
Do these options work for you? Let us know. We'll schedule a free consultation ASAP to discuss the details with you!
With years of experience in gate building and installation, we have honed our skills and perfected our craft. That's why we pride ourselves on delivering the highest level of customer service in the Phoenix area. Our team of experts is dedicated to ensuring that your experience with us is smooth, hassle-free, and enjoyable from start to finish.
Expand, Extend, Refurbish or Replace your Old, Weathered Gate
Metal, Wood, Iron Gates – Custom Built New for You!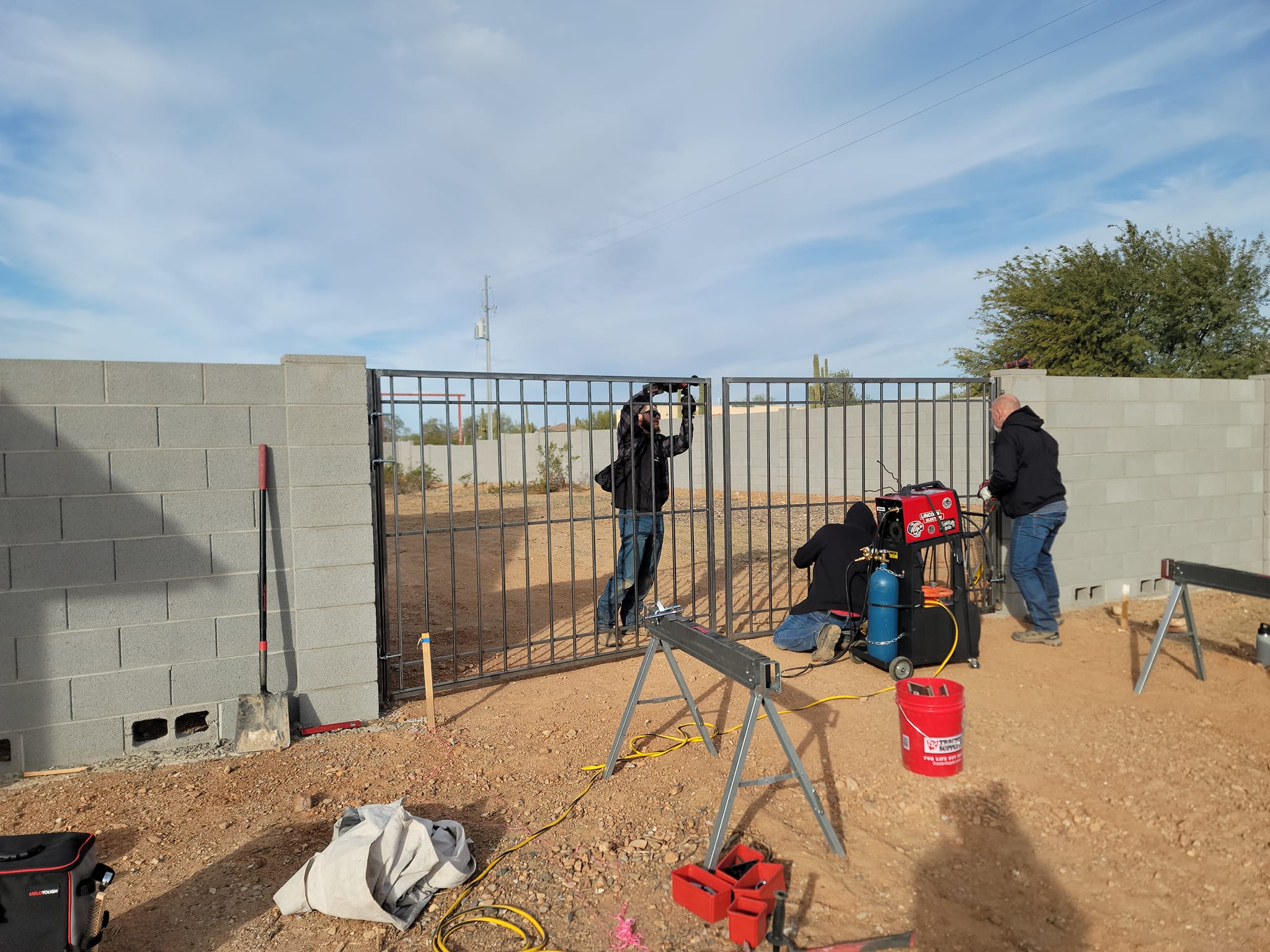 If you want a new installation for your front yard, backyard, or driveway—you name it, and we'll build it. We've got all kinds of options for you: wood, metal, and iron gates, all available in different styles and colors. From wooden barriers with traditional slats to evenly spaced picket designs to ornamental wrought iron gates with decorative scrollwork and motifs to doorways with a minimalistic design – whatever you need, we've got it covered.
Wanna break out of the box? Yes…? Great!
We offer custom-built options so as not to limit your creativity. A custom-built barrier provides a range of benefits over a pre-made or standard one, including greater flexibility, functionality, and quality. With careful planning and our team of professionals, you can create a barrier that meets all your needs and enhances the value and appeal of your property.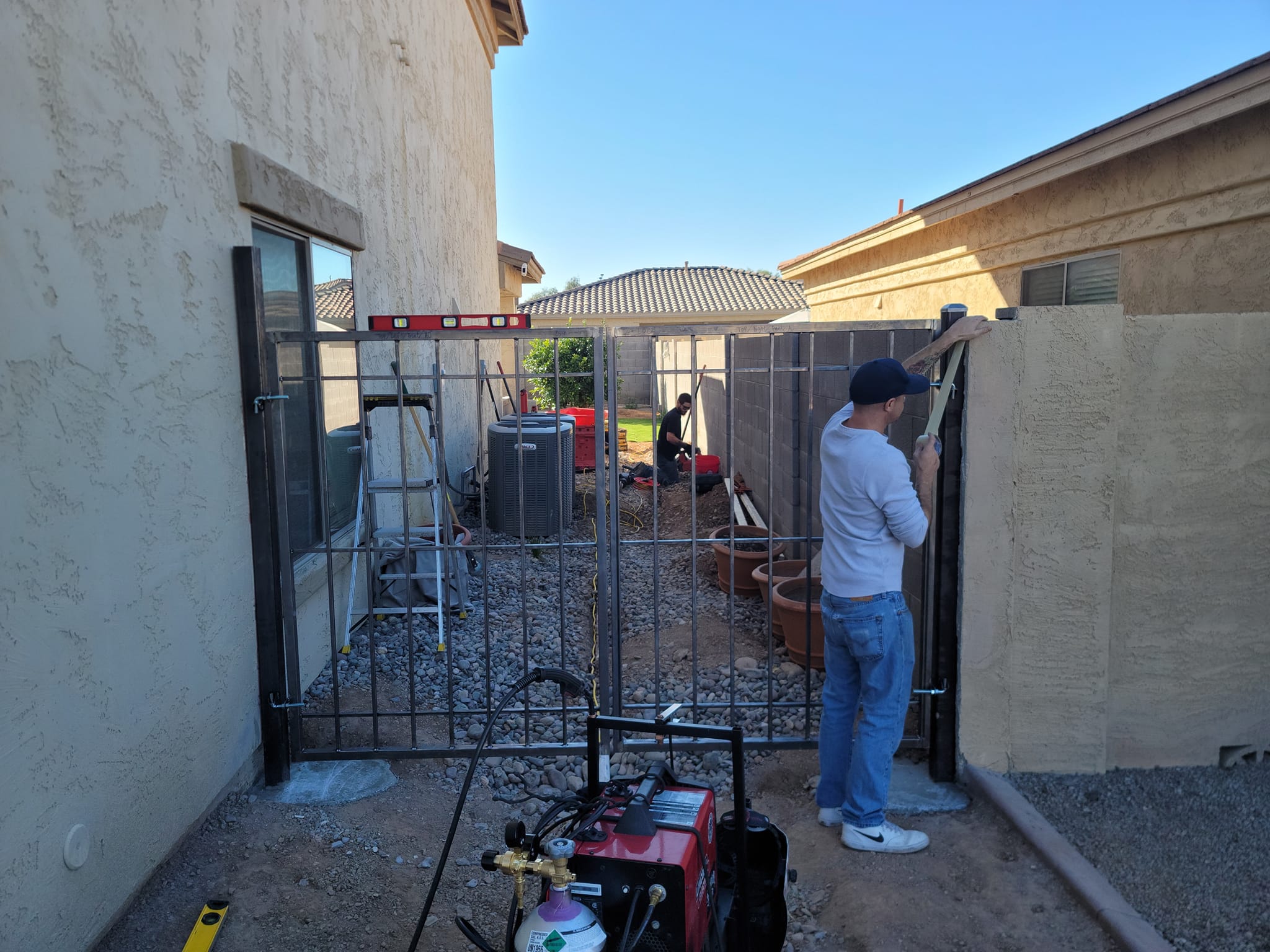 Looking to enhance your property's functionality, accommodate RVs, or boost your curb appeal in Phoenix, AZ? Landshark is here to help! Our expert gate extension services offer customized solutions that meet your needs. First, we evaluate your existing installation, discuss your desired changes, and design a customized solution that complements your property's outlook. We will also select the appropriate materials and install your expanded or extended gate with exceptional care and attention to detail.
Perhaps you have an old gate that needs refurbishing; we can take care of that too. However, if yours has irreparable damage or is becoming increasingly expensive to maintain, it might be time to consider a replacement. Not to worry! Our team will guide you through the cost implications and potential impact on your residential or commercial property to help you make an informed decision.
Don't settle for a subpar gate – choose Landshark!
Fence Gate Fabrication at its finest – Weld repairs and more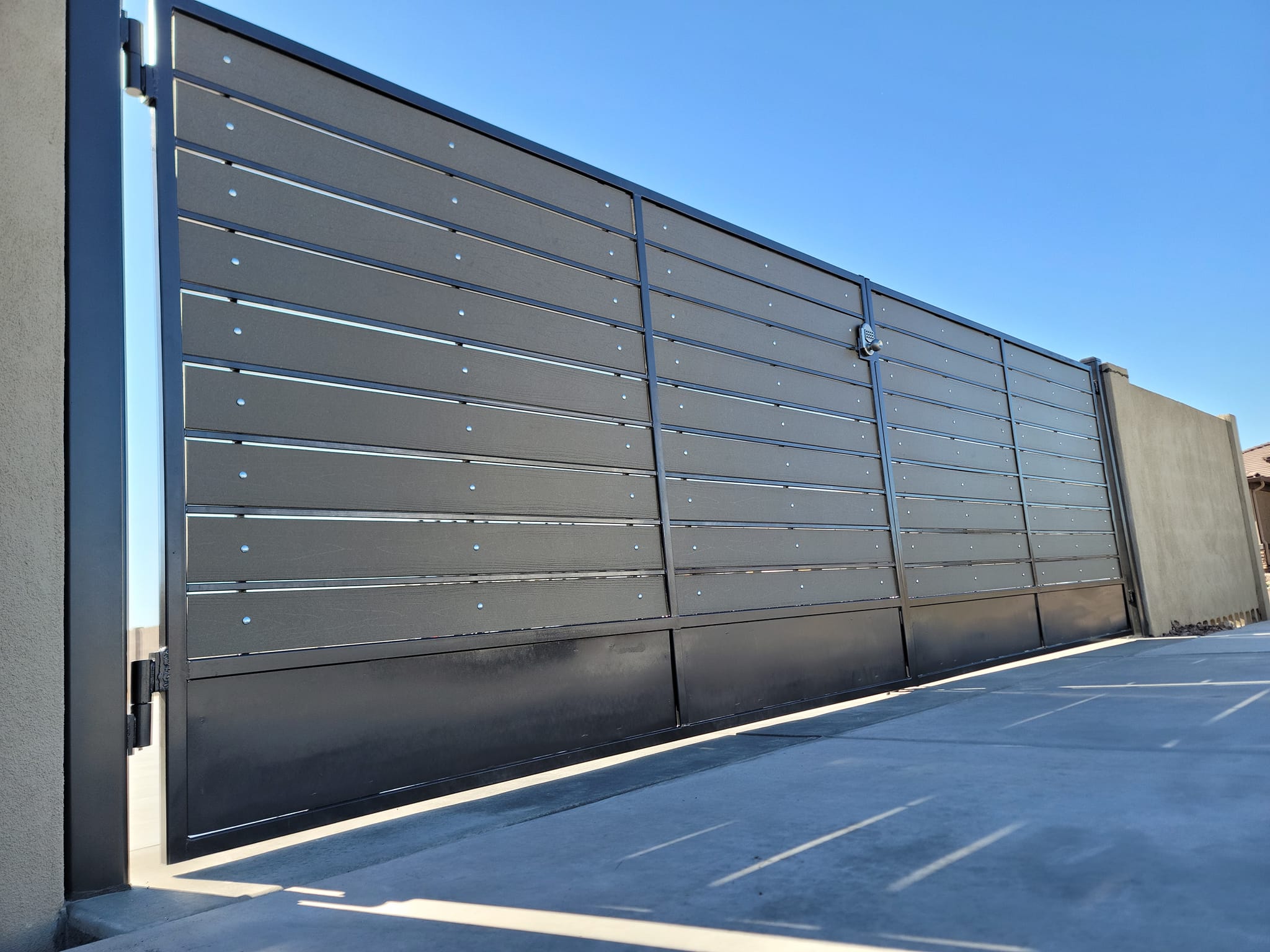 Fence gate fabrication can be an intricate process, and it requires a significant level of expertise and attention to detail. So, it's essential to work with professional gate contractors who know their onions and will work with you every step of the way. From the design and planning phase to material selection (wood, metal, or composite materials), surface preparation, fabrication, and installation, Landshark Gate Company is your go-to team!
In addition, we also offer expert weld repair services, starting with a thorough inspection to determine the best repair method. We then remove any rust or debris from the damaged area and clean the surfaces to prepare them for welding. Once the welding repair is complete, the repaired area is typically ground down to create a smooth surface. Then we grind down and finish the doorway with a protective paint, stain, or sealant coat to protect it from the elements and enhance its appearance.
Let's help you create a gate-rific experience TODAY!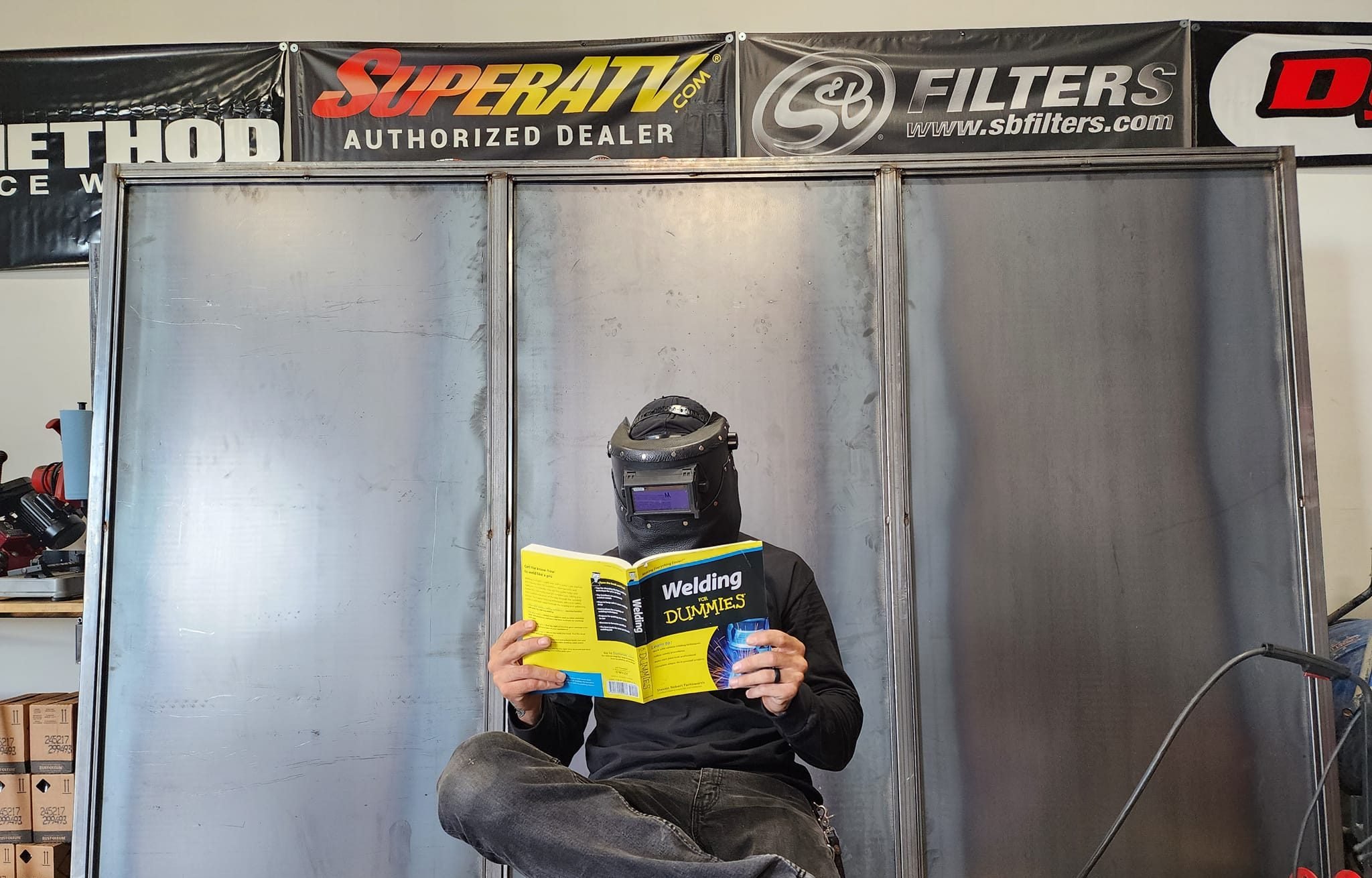 Phoenix gate company – professional installation
We know how much effort goes into making a home perfect, so when we install your gate, it will be exactly what you dreamed of—and then some.
What all do y'all fellas do?
We are a local company based in Phoenix, Arizona, offering a wide range of services, such as gate installation, repair, restoration, and expansion.
What areas of town do you serve?
We pride ourselves on serving the Phoenix area and its surrounding neighborhoods, such as Camelback East Village, Arcadia Lite, and North Mountain Village. With a proven track record of successfully completing gate projects in and around Downtown Phoenix and Central City, you can trust us to provide top-notch service no matter your location.
What materials can we choose from?
There are several gate materials to choose from, including wood, metal, and composite materials. Composite materials are becoming more popular as they are durable and low-maintenance and can be made to look like wood without the maintenance requirements.
Okay, Okay. What's this gonna cost me?
The cost of our services can vary widely depending on several factors, such as the type of material you choose, the size, style, complexity of the design, the extent of repairs required, and more. Not to worry! We will provide you with transparent and competitive pricing.
Any Guarantee or Warranty?
We stand by our work. If you are unsatisfied with your installation, expansion, repair, or maintenance, we will return to fix it. We will only leave once you are satisfied.
Request the #1 Gate Builders
RV Gates + Side Yard Gates Phoenix
At Landshark Gate Company, we take immense pride in providing exceptional services to both residential and commercial properties across the area. Our team of skilled professionals is devoted to delivering outstanding customer service, ensuring our clients always receive top-notch work that exceeds their expectations.
Our portfolio boasts a wide range of successful projects, including installations, repairs, refurbishments, and expansions across several affluent neighborhoods like Biltmore, Arcadia, historic Encanto and Willo districts, and family-friendly areas such as Ahwatukee and Moon Valley. Our clients applaud our meticulous attention to detail, the use of high-grade materials, and commitment to completing projects within the designated timeline and budget.
Whether you're seeking to bolster your home security or enhance the look of your business, we possess the required knowledge and expertise to get the job done to perfection. Don't wait any longer; contact us today for a FREE, NO OBLIGATION quote.
We believe in providing our customers with the highest quality custom gates they can find, and our reviews and customer testimonials speak for themselves. From custom crafted archways to full-scale gate systems tailored to fit your home's unique appeal, our team strives for excellence in each custom project we undertake. Whatever the request may be, no matter how big or small, we guarantee you will be left satisfied. Join our growing list of happy clients who have experienced true success by choosing to work with us!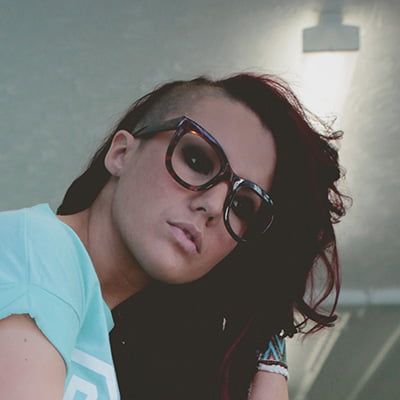 Just had our new RV gate installed and very impressed with the quality of material and workmanship! These guys ready know their stuff. highly recommended!!





This was a very positive experience. Chad showed up when he said he would and did exactly what he said he would do. The finished product was beautiful and I would highly recommend him. We love how the gate looks now. His work ethics are evident in the craftsmanship displayed in his products.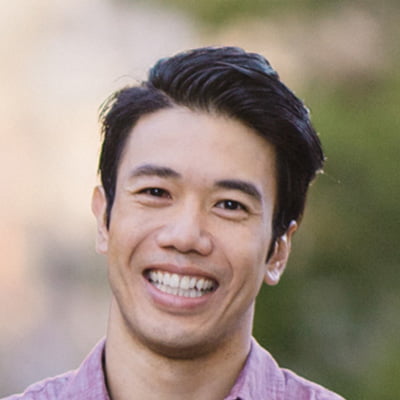 Landshark came and fixed my gate.. they were early they worked hard and did amazing work! I will be recommending these guys to everyone